Lamptron CCM30 Programmable Fan Controller
---
Details

Product: CCM30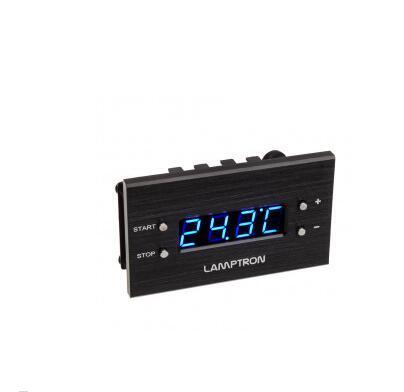 Title:
Lamptron CCM30 Programmable Fan Controller
Product information - CCM30 programmable fan control black
This programmable 4 -channel fan control allows temperature -dependent control of the connected fans. When a preset temperature range is exceeded , the operation of the fans is switched on or off.
In addition to fans, all other 12V consumers, such as LED strips, can be connected. The temperature range can be adjusted between 0 and 100 degrees Celsius and is also displayed on the display in driving speed.
Technical details:
Dimensions: 75 x 44 x 30 mm (BxHxT)
Color: Black
Ventilator ducts: 4 (max. 30 W total)
Display: 69 x 38 mm (monochrome)
Connections:
4x 3 -pin (fan)
1x 2 -Pin (Sensor)
1x 4 -Pol Molex (power supply)
Delivery:
1x Ventilator control
1x cable with temperature sensor (75 cm)