PC hardware real time monitoring-HM021
---
Details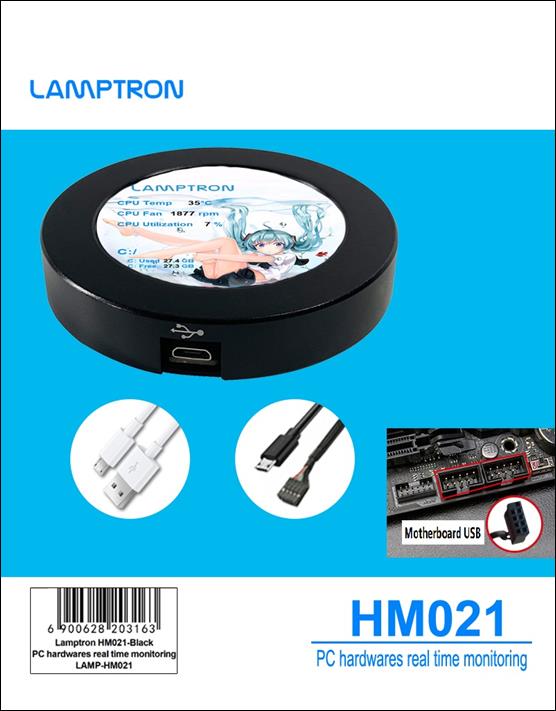 Title:
LamptronPC hardwaresreal time monitoring-HM021
Unique Selling Point:
l 2.1" LCD screen display.
l Only a USB connection is required.
l working together with AIDA64(www.aida64.com).
l PC hardwares real time monitoring.
l Mouting inside the computer case.
l Lamptron offers different interface design ZIP file.
l Interface can be designed by users.


Product introduction:
In the era of computer application technology, the computer is no longer just a black box for industrial and office use.The LAMPTRON HM021, combined with AIDA64 software, allows you to have a more comprehensive understanding of the changes of hardware parameters that you care about in your computer.It has a 2.2-inch LCD screen and can present your own personalized information interface.
The LAMPTRON HM021, combined with AIDA64 software, can display all hardware parameters of your computer, including motherboard, CPU, GPU, memory, hard disk, graphics card, sound card, fan, etc.
The Lamptron HM021 is configured with different skins for you and is under constant update.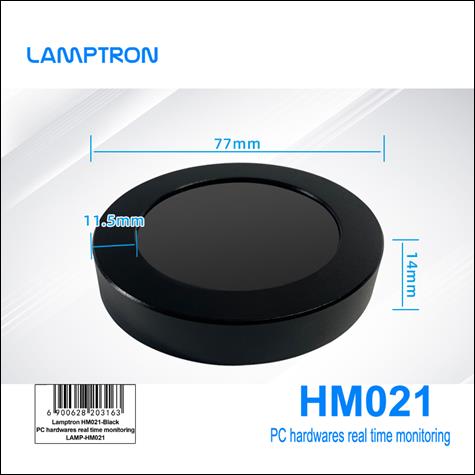 FEATURES:
l 2.1" LCD screen display
l working together with AIDA64(www.aida64.com).
l PC hardwares real time monitoring.
l Mouting inside the computer case.
l Lamptron offers different interface design ZIP file.
l Interface can be designed by users.


SPECIFICATION:
| | |
| --- | --- |
| Dimension | ɸ77mm×14mm |
| Screen Dimension | ɸ54mm(screen) |
| Color Available | Black |
| DC Input | 5V DC ( USB ) |
| Connectors | Micro USB |
| Resolution | 480×480(60Hz) |
| Visible Angle | 120º |
Order information:
| | | | |
| --- | --- | --- | --- |
| PartNumber | EANCode | Productname | Description |
| LAMP-HM021 | 6900628203163 | HM021 | AIDA64;2.1 inch; PC hardwaresreal time monitoring; USB; Black housing |
Other: